FC 24: Evolution upgrade for the best three-pronged attack
2023-11-14 05:48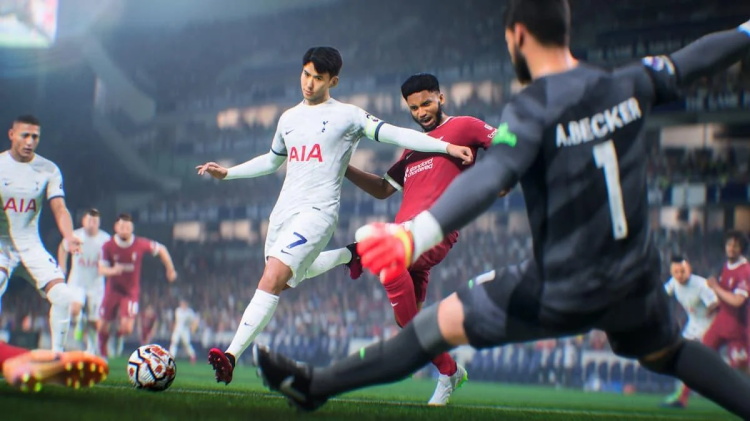 In EA Sports 24, these are the players to use for the Triple Threat Attacker Evolution.

On the 12th of November a brand new Evolution was added to the Ultimate Team in EA Sports FC 24. Interestingly, this Evolution is one of the few that doesn't require a position to play, making it easy to use on a variety of players, even if the upgrades are mostly aimed at attacking players. Unfortunately, most players will probably skip this one because you have to spend either in-game or real money to start the Evolution. It's just not a big enough of an upgrade in EA Sports FC 24 to make it worth your while to plunk down the extra cash. That said, if you've got some money burning a hole in your pocket, you could do worse than this. Especially if you're a Liverpool fan.

What is the development of the Threefold Attacker in EAFC 24?

As mentioned above, it will cost you 50,000 Coins or 1,000 FC Points to get the Triple Threat Attacker Evolution in EA Sports FC 24. That's cheaper than a lot of the Evolutions we've seen over the past few weeks, but it's still a pretty big down payment. Anyway, here are the requirements you'll need to keep in mind if you decide to take on this Evolution:

Max Overall: 84
Max Pace: 83
Max Shooting: 86
Max Dribbling: 84
Max Defense: 65
Max Physical: 85
Max Number of PlayStyles: 7

You'll earn +3 Overall, +5 Pace, +5 Shooting, +2 Passing, +2 Physical, +5 Dribbling, and the Power Shot, Technical, and Press Proven PlayStyles once you complete all associated objectives.

Best Players for the EAFC 24 Triple Threat Attacker Evolution
As mentioned above, since this Evolution doesn't have a position requirement, you have a ton of options. However, there are certainly a few players who stand out from the crowd. In fact, there's one popular player for whom this EAFC 24 Evolution seems tailor-made. Below, you'll find a list of the best options. We'll also give a brief explanation of why they fit the bill:

Dominik Szoboszlai – Liverpool
Alassane Plea (TOTW) M'gladbach
Serge Gnabry – Bayern Munich
Ferran Torres – Barcelona
Paul Pogba – Juventus

Szoboszlai will be the go-to player for most people completing this Evolution. People have been clamouring for a Liverpool Evo since the announcement of the feature and now they finally have one. Whether you think it's worth the 50,000 coins or not is up to you.

The Bundesliga also has some fun options, including Plea's Team of the Week card. Unfortunately, this card currently costs 30,000 Coins, which means you'll have to pay a pretty penny on top of the evolution fee if you don't already have it, but it's a solid card. Meanwhile, Gnabry is a lot cheaper, but he doesn't fall behind in any of the important stats.

Torres is a solid enough choice for wingers, but he may get a similar upgrade from Evo. An intriguing option with no positional requirements is Pogba. Sure, he's not the fastest player, but the rest of his stats make him a solid option to pull the strings in the middle of the pitch.

EA Sports FC 24 is available now for PlayStation, Xbox and PC. The Triple Threat Attacker Evolution will be available on December 10th.

Mcmillion: Every thing worked out great would recommend to anyone looking for these types of services. Top notch chat support to help you along the way thank you once again.

The customer has bought:

FC 24 Coins

2023/

11/28

Blade: Gooooood! highly recommended this website, I didn't wait long for the transaction, and I got more discount from their discord task LOL. Perfect experience and safe from getting banned!

The customer has bought:

FC 24 Coins

2023/

11/28

Ramirez: They were super helpful after I made a mistake and bought the wrong items, got my refund almost immediately. Went ahead and purchased some coins instead and they got it done within an hour.

The customer has bought:

FC 24 Coins

2023/

11/28




Chioreanu: Bought 500K, got 35K extra, I got them very fast, under 1 hour, the customer support was great, everything was flawless! Would recommend and use again! Completely trustworthy!

The customer has bought:

FC 24 Coins

2023/

11/28




Jkozluk: Great service it only takes an hour for your coins to be delivered great customer service.

The customer has bought:

FC 24 Coins

2023/

11/29




Stewy: They have 24 hour chat with agents ready to assist that are friendly, the process took some time but was worth it. This is definitely my go to from now on. Recommending to my gamer friends as well.

The customer has bought:

FC 24 Coins

2023/

11/29




Diyar: A bit complicated but if you figure it out it's not hard really quick good service.

The customer has bought:

FC 24 Players

2023/

11/29




lily: The price of Buyfifacoin is very cheap, I have bought many times in the above, very safe.

The customer has bought:

FC 24 Players

2023/

11/29




Victor: Is fast and secure also the chat is really fast 24/7 and they give you a response in seconds. I will recommend this to my fifa friends.

The customer has bought:

FC 24 Players

2023/

11/30




Montoya: Every time I want FC 24 coins or players, this is my place. I just bought 200k and Harry Kane, and I'm in love with this page, 100% safe and quick for delivery.

The customer has bought:

FC 24 Players

2023/

11/30




Redfield: Took no more than 15 mins to get my players! And they provide the YouTube discount code. Life's good!

The customer has bought:

FC 24 Players

2023/

11/30




Florin: 100% legit and received the players in less than 1hr, and their 24hr live agent was really fast and helpful, will definitely buy more from here.

The customer has bought:

FC 24 Players

2023/

11/30