FC 24: How to complete the FC Pro Open Denis Genreau SBC - Solution & Costs
2023-11-20 05:47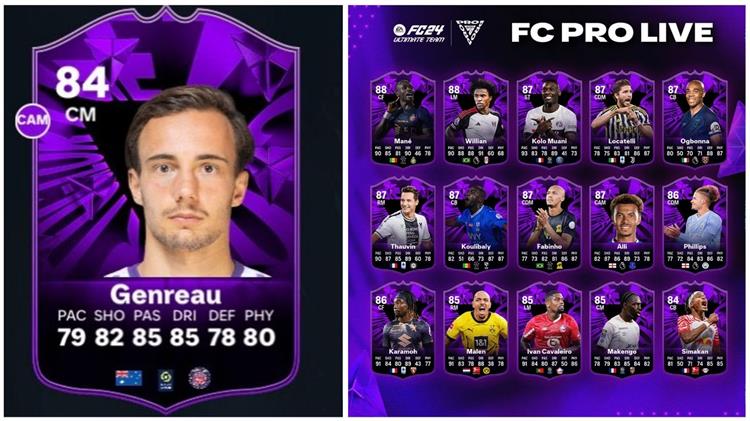 Here's a breakdown of how players of EA FC 24 will be able to complete the new FC Pro Open Denis Genreau SBC.

The promotion of the FC Pro Open by EA Sports in EA FC 24 was continued on the 19th of November with a new Squad Building Challenge. Another Ligue 1 player was made available via SBC one day after Renan Lodi: Denis Genreau.

The CM of Toulouse FC is now available in FUT with an 84 OVR card. And if the pro linked to this card, Mark, does well in the FC Pro Open tournament, this card will be eligible for an upgrade.

Here you can see the completion of the FC Pro Open in EA FC 24.

Requirements for the SBC
To complete the FC Pro Open Denis Genreau SBC in EA FC 24, there is only one team that needs to be completed.
Ligue 1 players: Min. 1
Team Overall Rating: Min. 84 OVR

Here's all the requirements needed to get started:
CB John Stones (85 OVR)
CM Stanislav Lobotka (84 OVR)
CB Adrian Rabiot (84 OVR)
GK Bella Bixby (84 OVR)
CB Lucas Hernandez (84 OVR)
CB Amanda Ilestedt (84 OVR)
CB Thiago Silva (84 OVR)
LW Mikel Oyarzabal (83 OVR)
CB Willi Orban (83 OVR)
CDM Guido Rodriguez (83 OVR)
ST Callum Wilson (82 OVR)

In total, you can expect to pay approximately 30,000 Coins (per FUTBIN) for the EA FC 24 Denis Genreau SBC, but this may change depending on the fluctuations in the market.

The expiration date of this SBC is November 27th, 2023.
Mcmillion: Every thing worked out great would recommend to anyone looking for these types of services. Top notch chat support to help you along the way thank you once again.

The customer has bought:

FC 24 Coins

2023/

11/28

Blade: Gooooood! highly recommended this website, I didn't wait long for the transaction, and I got more discount from their discord task LOL. Perfect experience and safe from getting banned!

The customer has bought:

FC 24 Coins

2023/

11/28

Ramirez: They were super helpful after I made a mistake and bought the wrong items, got my refund almost immediately. Went ahead and purchased some coins instead and they got it done within an hour.

The customer has bought:

FC 24 Coins

2023/

11/28




Chioreanu: Bought 500K, got 35K extra, I got them very fast, under 1 hour, the customer support was great, everything was flawless! Would recommend and use again! Completely trustworthy!

The customer has bought:

FC 24 Coins

2023/

11/28




Jkozluk: Great service it only takes an hour for your coins to be delivered great customer service.

The customer has bought:

FC 24 Coins

2023/

11/29




Stewy: They have 24 hour chat with agents ready to assist that are friendly, the process took some time but was worth it. This is definitely my go to from now on. Recommending to my gamer friends as well.

The customer has bought:

FC 24 Coins

2023/

11/29




Diyar: A bit complicated but if you figure it out it's not hard really quick good service.

The customer has bought:

FC 24 Players

2023/

11/29




lily: The price of Buyfifacoin is very cheap, I have bought many times in the above, very safe.

The customer has bought:

FC 24 Players

2023/

11/29




Victor: Is fast and secure also the chat is really fast 24/7 and they give you a response in seconds. I will recommend this to my fifa friends.

The customer has bought:

FC 24 Players

2023/

11/30




Montoya: Every time I want FC 24 coins or players, this is my place. I just bought 200k and Harry Kane, and I'm in love with this page, 100% safe and quick for delivery.

The customer has bought:

FC 24 Players

2023/

11/30




Redfield: Took no more than 15 mins to get my players! And they provide the YouTube discount code. Life's good!

The customer has bought:

FC 24 Players

2023/

11/30




Florin: 100% legit and received the players in less than 1hr, and their 24hr live agent was really fast and helpful, will definitely buy more from here.

The customer has bought:

FC 24 Players

2023/

11/30