FC 24: Haaland Rating Predictions and Player Guide
2023-08-15 09:31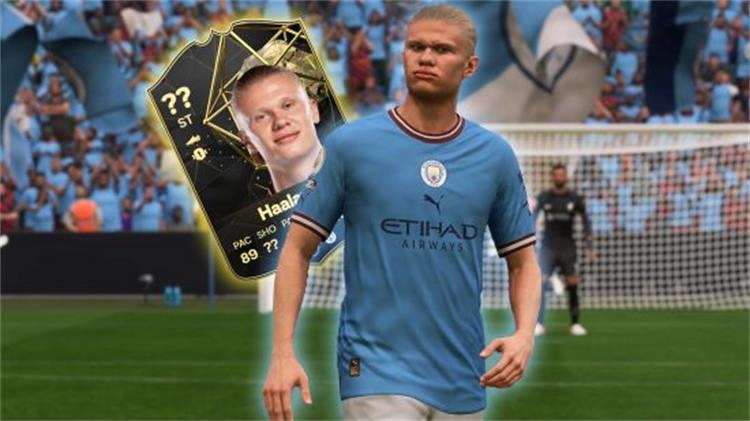 Erling Haaland FC 24 stats have not been unveiled, but here are some expectations for Manchester City's star player in EA's news.

One of the most eagerly awaited revelations in EA Sports' rebooted soccer franchise is Erling Haaland FC 24's rating. Although he wasn't the highest-rated player in FIFA 23, he made Team of the Year after a record-breaking season with Manchester City.

An ever-present presence in City's frontline, Haaland has steadily developed his game over the last season to become an even more complete forward, and he's not only one of the hottest properties in real football, but also one of the best FC 24 forwards in the game. That's right, we expect the Norwegian star to tear it up in EA FC 24 Ultimate Team. And we expect him to be at the top of the FC 24 ratings when the game launches. We're sure EA Sports has big plans for Haaland's rating in FC 24 after kicking Kylian Mbappé off the cover of this year's soccer game.

Haaland FC 24 Prediction
Our prediction is that Haaland's FC 24 rating will be 90 - a +2 increase from his base rating in FIFA 23. It's clear that Haaland should be among the world's elite after breaking the Premier League's single season goalscoring record in his first year at Manchester City.

With a monstrous 36 goals and eight assists in the 35 domestic matches he played in last season - as well as the 12 goals he scored in the Champions League trophy-winning campaign - Haaland more than proved that he could become the leading light in Pep Guardiola's side. What's more, we've only seen the beginning of what Haaland has to offer, as he opened the 2023/24 Premier League season with a brace against Burnley.
Although it makes sense to put the player on a pedestal like the one he's been on with FC24 Mbappé, and it would have been nice to see the player get the 91 rating he's expected to get again this year, it's unlikely that EA Sports will grant that wish.

FC 24 Haaland Stats
FC 24 Haaland's stats have yet to be revealed, but we expect the Manchester City man to have a similar stat distribution to FIFA 23 with the odd bump here and there - finishing related attributes will be the main beneficiaries.

Undoubtedly his strongest attribute will remain Haaland's shooting ability. In FC 24 we're hoping to see it increase from 91 to 92. This is the same stat that only Cristiano Ronaldo had in FIFA 23. Elsewhere, Haaland's passing could see a slight boost. He had a decent assist record last season.
As one of the best players in the game, Haaland will certainly benefit from the increased PlayStyle+ attributes with the introduction of FC 24 PlayStyles - a replacement for the trait system. Look for him to be paired with the likes of the Finesse Shot or Power Shot a lot of the time.

In addition, Haaland shouldn't feel nearly as clunky to play as he did in FIFA 23, thanks to changes to FC 24's Accelerate system - now called Accelerate 2.0 - and the addition of several Lengthy player types.

And that's how we're going to rate Haaland for FC 24 at the moment. Needless to say, we expect the Norwegian to have plenty of completely broken cards this season, and for him to be a regular in most FC 24 career mode squads if you have the budget to lure him away from the Etihad. See you on the pitch.
Pfendtner: Absolutely nothing to complain about because they have super cheap fc coins and I got my coins within a few hours.

The customer has bought:

FC 24 Coins

2023/

09/22

Jkozluk: Great service and the process only takes 20 mins for your coins to be delivered. The great customer service.

The customer has bought:

FC 24 Coins

2023/

09/22

Camilo: Absolutely recommend, you get a response so quickly and you can help out with absolutely everything with very clear instructions. 100% recommended.

The customer has bought:

FC 24 Coins

2023/

09/22




Radu: I always bought 500K and got 35K extra in FIFA 23. So I bought new coins when they had, and I got them very fast, the customer support was great, and everything was flawless!

The customer has bought:

FC 24 Coins

2023/

09/22




Magurno: Great customer service and fast service!

The customer has bought:

FC 24 Coins

2023/

09/23




David: The process of withdrawal is simple, quick, and efficient. Highly recommended. I will certainly be back soon!

The customer has bought:

FC 24 Coins

2023/

09/23




Alonso: A really good service, with a 24-hour chat and an incredible and fast quality of service.

The customer has bought:

FC 24 Coins

2023/

09/23




Jrda: Great communication and assistance, smooth transaction. The coins were transferred and got my account back safely. Can't believe I found you guys this late. Thanks so much, I will use your site all the time in EA FC 24.

The customer has bought:

FC 24 Coins

2023/

09/23




Noel: Since I started using buyfifacoins to purchase fifa coins, my best compliment towards them would be the fact that they made me come back and reuse their service more than twice, which proves how reliable they are. Absolutely I am pleased to have come across you.

The customer has bought:

FC 24 Coins

2023/

09/24




Cristian: Got my coins really quick and there was a live chat to help when I wasn't sure if I had done it correctly.

The customer has bought:

FC 24 Coins

2023/

09/24




Dani: The first time I ordered something here, this time a bit more expensive so little nervous. But there was no need this is all really well done and I recommend this to everyone.

The customer has bought:

FC 24 Coins

2023/

09/24




DocGhost: Amazing! Great friendly customer service. They do it quick and painless.

The customer has bought:

FC 24 Coins

2023/

09/24