The Announcement of 2000K BUYFIFACOINS SUMMER GIVEAWAY
2020-09-18 04:49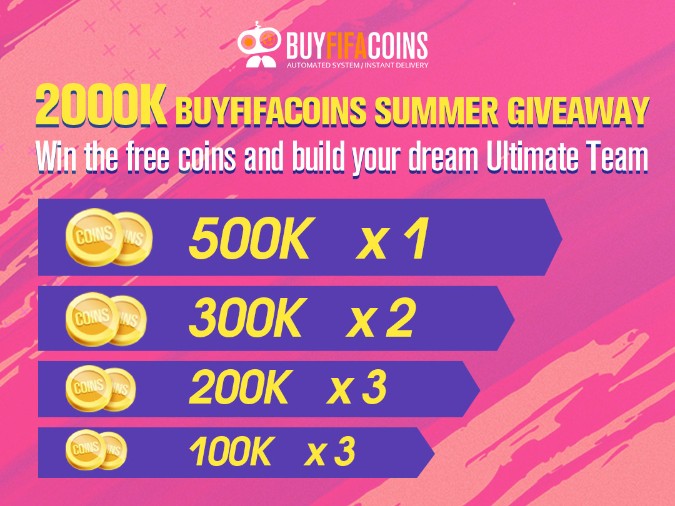 How much you will spent on FUT and ICONS in FIFA 21? You wish to store the FUT coins at the moment? Check the September's BUYFIFACOINS Giveaway, how much the coins can you win?
According to the old rules, check the correct rate of the quizzes first. In total, 10% of friends who have answered 2 quizzes correctly! If you want to play other types of the quiz, welcome to give suggestions to BUYFIFACOINS.
1. Who will be FIFA 21 cover star?
A: Mbappé (52.8% Correct)
Van Dijk
C.Ronaldo
Messi
Courtois
2. In the below new FUT ICONS, which player has won three UCL champions?
A: Lahm
Eto'o (28.5% correct)
F.Torres
Cech
Next, the list of 9 winners is randomly chosen by the third party gleam.io according to the winning rate as long as the event ends. The details are as follows.
① 500k X 1 Winner
② 300k X 2 Winners
③ 2000k X 3 Winners
④ 100k X 3 Winners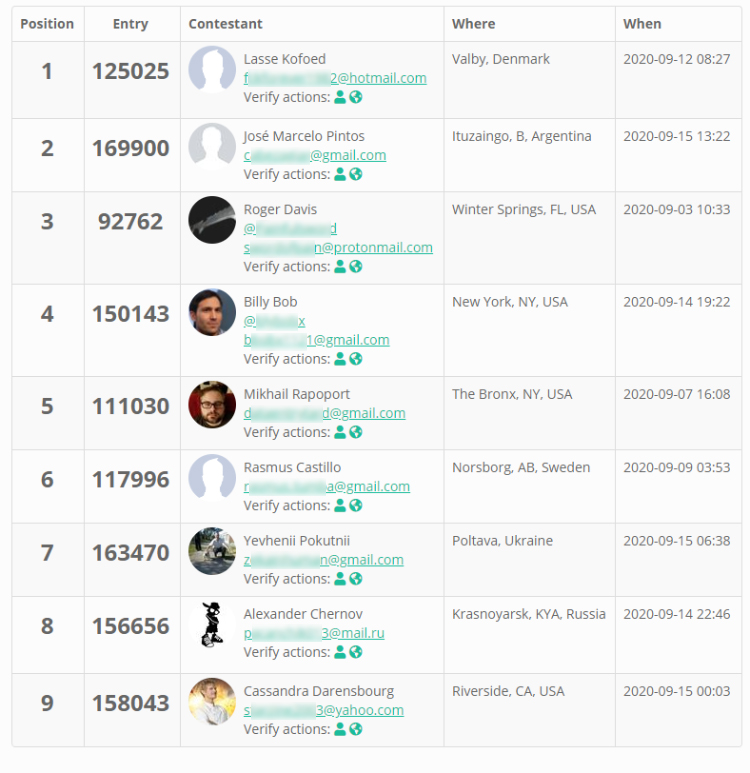 Congratulations to the above winners! Please contact 24/7 live-chat to claim corresponding prizes in one month! Use it when you buy the corresponding amount of FUT coins at BUYFIFACOINS:
"FUT 20 Coins" – "BUY NOW" – "Voucher" – "Submit" - "CHECK OUT".
Take care of yourself in this period of time, stay and play with BUYFIFACOINS!
Oliad: 10/10 customer support. Absolutely love the experience, the process is so easygoing. I have no regret in using this website.

The customer has bought:

FUT 23 Coins

2023/03/22

Mzito: At first I was worried about the process will take longer and maybe the scammers, but then I got the coins in half an hour, it was so fantastic! I have recommended my neighbors to try it out as well! Absolutely legit and good business.

The customer has bought:

FUT 23 Coins

2023/

0

3/22

Patoo: Best experience, quality and price, fast service. Everything went smoothly.

The customer has bought:

FUT 23 Coins

2023/

0

3/22




Vaughn: Very quick and reliable! Never has any problems with the purchasing, 5 stars from me.

The customer has bought:

FUT 23 Coins

2023/

0

3/22




Alex: Worked just as advertised. Quick and easy steps. I was pleased.

The customer has bought:

FUT 23 Coins

2023/

0

3/23




Eliseo: Amazing service. The process was quick and safe. 10/10 would recommend it.

The customer has bought:

FUT 23 Coins

2023/

0

3/

23




Estrada: At first it looked difficult when I buy the players but then the instructions were simple.

The customer has bought:

FUT 23 Players

2023/

0

3/

23




Filippo: I bought 6 million last year and some players this year. The company is absolutely amazing. A highly and strongly recommended!

The customer has bought:

FUT 23 Players

2023/

0

3/

23




Beast: They transfer the players without any problem and they have nice support, they will answer any questions for you.

The customer has bought:

FUT 23 Players

2023/

0

3/

24




Enea: I had problems with the coins and players at the beginning but Vida helped me out he or she was very helpful, guided me how through them step by step, very patient with me. Overall I'm happy and satisfied with my fut coins and players, thanks for the awesome customer service!

The customer has bought:

FUT 23 Players

2023/

0

3/

24




Omnni: Excellent service and very trustworthy. I order some players every time when they have the events and I get them pretty fast. Absolutely recommended.

The customer has bought:

FUT 23 Players

2023/

0

3/

24




Rani: I only use BUYFIFACOINS for buying because I trust no one else they give you instructions and if you follow them you will never have any problems best around no doubt.

The customer has bought:

FUT 23 Players

2023/

0

3/

24