Winner Announcement: Join Buyfifacoins Giveaway, Win Free FIFA Coins
2022-07-11 10:20
The event "Join Buyfifacoins Giveaway, Win Free FIFA Coins" comes to the end, now is the time to announce the result & lucky winners!
Next, the list of 6 winners are randomly chosen by the third party gleam.io according to the winning rate as long as the event ends. The details are as follows:
Prize:
1. 700K FIFA Coins
2. 600K FIFA Coins
3. 500K FIFA Coins
4. 400K FIFA Coins
5. 400K FIFA Coins
6. 300K FIFA Coins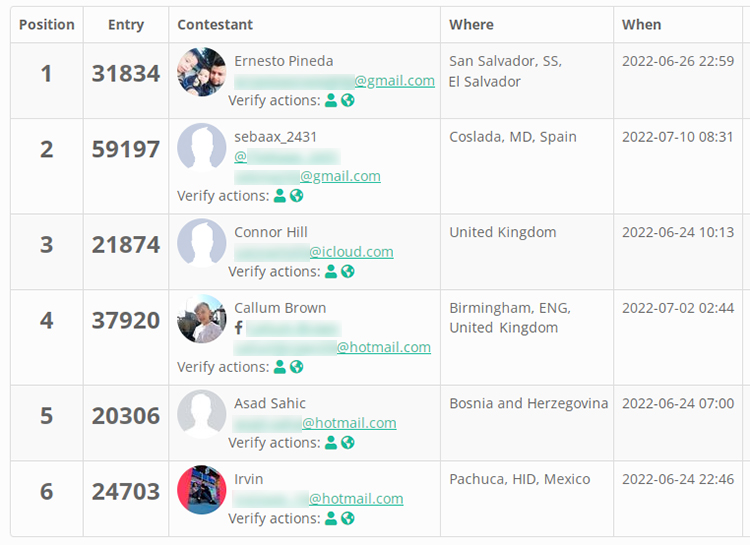 Congratulations to the above winners! Please contact 24/7 live-chat to claim corresponding prizes in one month!
Wish you good luck & Have fun at BUYFIFACOINS!
Pfendtner: Absolutely nothing to complain about because they have super cheap fc coins and I got my coins within a few hours.

The customer has bought:

FC 24 Coins

2023/

09/22

Jkozluk: Great service and the process only takes 20 mins for your coins to be delivered. The great customer service.

The customer has bought:

FC 24 Coins

2023/

09/22

Camilo: Absolutely recommend, you get a response so quickly and you can help out with absolutely everything with very clear instructions. 100% recommended.

The customer has bought:

FC 24 Coins

2023/

09/22




Radu: I always bought 500K and got 35K extra in FIFA 23. So I bought new coins when they had, and I got them very fast, the customer support was great, and everything was flawless!

The customer has bought:

FC 24 Coins

2023/

09/22




Magurno: Great customer service and fast service!

The customer has bought:

FC 24 Coins

2023/

09/23




David: The process of withdrawal is simple, quick, and efficient. Highly recommended. I will certainly be back soon!

The customer has bought:

FC 24 Coins

2023/

09/23




Alonso: A really good service, with a 24-hour chat and an incredible and fast quality of service.

The customer has bought:

FC 24 Coins

2023/

09/23




Jrda: Great communication and assistance, smooth transaction. The coins were transferred and got my account back safely. Can't believe I found you guys this late. Thanks so much, I will use your site all the time in EA FC 24.

The customer has bought:

FC 24 Coins

2023/

09/23




Noel: Since I started using buyfifacoins to purchase fifa coins, my best compliment towards them would be the fact that they made me come back and reuse their service more than twice, which proves how reliable they are. Absolutely I am pleased to have come across you.

The customer has bought:

FC 24 Coins

2023/

09/24




Cristian: Got my coins really quick and there was a live chat to help when I wasn't sure if I had done it correctly.

The customer has bought:

FC 24 Coins

2023/

09/24




Dani: The first time I ordered something here, this time a bit more expensive so little nervous. But there was no need this is all really well done and I recommend this to everyone.

The customer has bought:

FC 24 Coins

2023/

09/24




DocGhost: Amazing! Great friendly customer service. They do it quick and painless.

The customer has bought:

FC 24 Coins

2023/

09/24