Jesse Lingard SBC May Favourite in FIFA 21
2021-08-25 08:39
Another favorite of the FUT 21 season was re-released with high ratings, and Jesse Lingard won the FUTTIES SBC favorite of May. Lingard's Player of the Month (POTM) card was very popular in May, and the new card will be even better! Learn how to unlock the awesome new cards below.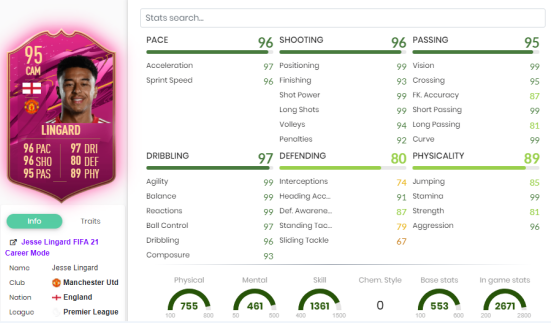 EA requires two squads in exchange for Lingard, who is rated 95. Lingard has already seen his club switch back to Manchester United on this card.
The requirements for the both squads are as below:
Premier League
● Premier League Players: Min. 1
● Squad Rating: Min. 82
● Team Chemistry: Min. 70
● Reward: One Mixed Players Pack
England
● English Players: Min. 1
● TOTW or TOTS Players: Min. 1
● Squad Rating: Min. 83
● Team Chemistry: Min. 65
● Reward: One Small Prime Gold Players Pack
The developer additionally upgraded his weak foot from 3 stars to four stars, creating it easier to attain and pass with FUTTIES Lingard compared to his previous cards. This is a player, you can play in any position on the court and adjust his position to center forward, forward, center midfielder or center back. If you want an attacker, then choose the eagle chemistry style, which will further improve his speed, shooting and physical fitness. If you want a more defensive player, you can apply the sentinel chemistry style, which will improve his defense and physical fitness, making FUTTIES Lingard an excellent midfielder in the penalty zone.



Hyde: There are cheap and affordable fifa coins at Buyfifacoins.com, plus they don't charge the extra money.
The customer has bought: FUT 21 Coins


2021/09/07




Moran: I've ordered a few times now, when I have had an issue, talk to their Live Chat in time, they always sort out the problem. Highly recommend!
The customer has bought: FUT 21 Coins


2021

/09/08




KISSORDEATH: Have anyone else doesn't know BUYFIFACOINS has the pre-order event? It will save money if you buy their voucher, it is a good choice if you want to enjoy a big discount on FIFA 22 coins.
The customer has bought: FUT 21 Coins





2021

/09/10