How to Complete Flashback Karim Benzema SBC
2021-11-29 01:47
FIFA 22's Black Friday promo is now live. There are a lot of new content to compete for, including Troy Deeney, Riddell Baku, and of course Karim Benzema and others' SBC and objective challenges.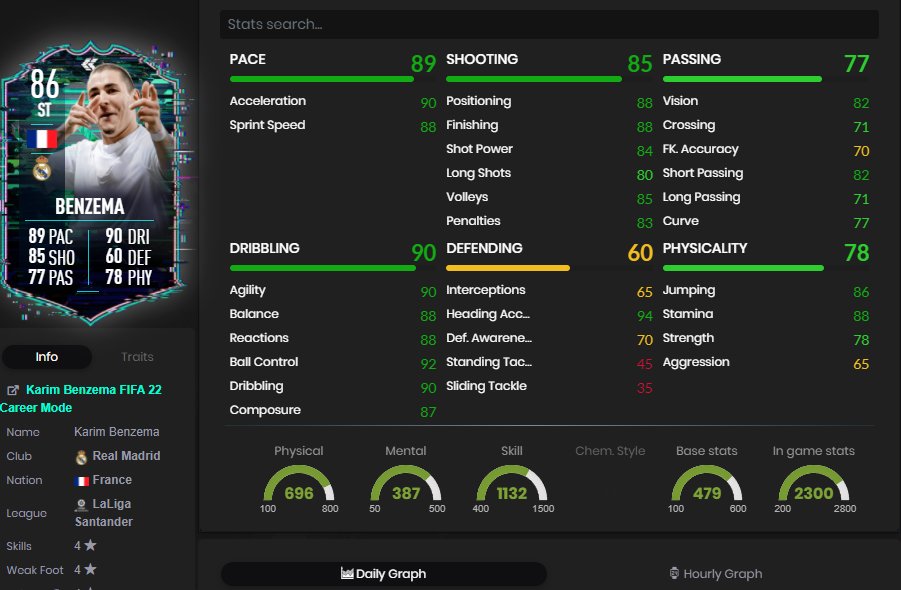 EA Sports added a new promotion related to Black Friday, including the Signature Signings event. These projects celebrate players signing with clubs around the world. One of the promotional items is Benzema celebrating his first season at Real Madrid in 2009/2010.
Although Benzema's 86-rated flashback SBC card was downgraded from his 89-rated basic rating card, it has been upgraded wildly in the right place.
For example, his speed (89) and dribbling (90) are higher. It also has a high offensive efficiency, making it more suitable for players with aggressive play styles-and it goes well with big strides and dribbling upgrades.
Requirements SBC Karim Benzema Flashback
Real Madrid
Minimum 1 Player from Real Madrid
Minimum 1 Players: SIGNATURE SIGNINGS
Minimum Team Rating: 83
Minimum Team Chemistry: 75
LaLiga
Minimum 1 Player from La Liga
Minimum 1 Players: Team of the Week
Minimum Team Rating: 85
Minimum Team Chemistry: 70
Expired: 2021/12/3
However, the good news is that it will only cost you about 88,000 FUT coins on Playstation, 99,000 on Xbox, and 83,000 on PC. However, it will only be available until December 3rd. Therefore, if you want to add him to your squad, you'd better act quickly!



Summa: Wait for 30 mins and got my product and the chat helped me really fast and good.

The customer has bought:

FUT 22 Coins

2022/01/18




Aaron: Excellent service, they offer a quick response to any of my inquiries and are 100% trustable. All love will be back for more.

The customer has bought:

FUT 22 Coins

202

2/01/18

Kavindu: Really good site. Fast delivery. Over-the-top customer service. All in all a very convenient process.

The customer has bought:

FUT 22 Coins

202

2/01/18




Luigi: I ordered 300k FIFA coins and in less than 15 minutes they were on my account.

The customer has bought:

FUT 22 Coins

202

2/01/18




Kabs: These's guys are the truth. Will be doing business for coins or players again soon.

The customer has bought:

FUT

Players

202

2/01/19




Alfie: No problem to get my FIFA players, very quick, efficient and easy to use. Highly recommend them!

The customer has bought:

FUT Players

202

2/01/19




Ewerton: Without a doubt the best and fastest site to buy coins, congratulations to have new features for buying players and squads, the best site, TKS.

The customer has bought:

FUT Players

202

2/01/19




Chris: Sold the players to me very quickly and the entire process was seamless.

The customer has bought:

FUT Players

202

2/01/19




Drake: It's fast and reliable! Will order soon for sure! The best site to buy FIFA squad for a good price!!

The customer has bought:

FUT

Squad

202

2/01/20




Khang: Was skeptical about it at first but everything worked out great, good customer service as well thanks, guys!

The customer has bought:

FUT Squad

202

2/01/20




Domini: I've been using this site since 2019 and I've always gotten what I ordered. Now they have squads that are selling! They are also very helpful with their live chat.

The customer has bought:

FUT Squad

202

2/01/20




Matthew: Very fast response and great guidance when I buy coins and squads.
The customer has bought: FUT Squad

202

2/01/20