Pre-order FIFA 23 Coins Now!
2022-08-25 07:12
FIFA 23 is coming soon. Pre-order can help you to get cheap and fast coins to build a brilliant squad at the first beginning of FIFA 23. Join BUYFIFACOINS.com to save more right now!


1. Vouchers for buying FUT 23 COINS
Buy vouchers to get coins, up to 20% discount.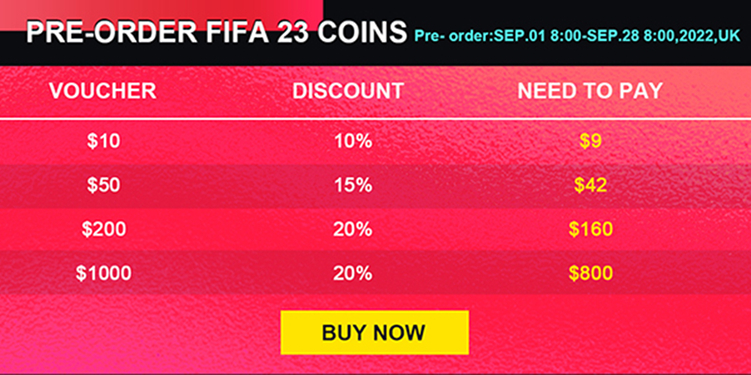 Note:
The vouchers only can be used when FUT 23 coins are available.
The vouchers can not be used in conjunction with other promotional or discounted codes.
2. Ranking for vouchers purchase
The more vouchers you buy, the more likely you will be on the rank to get extra rewards.
Bonus list: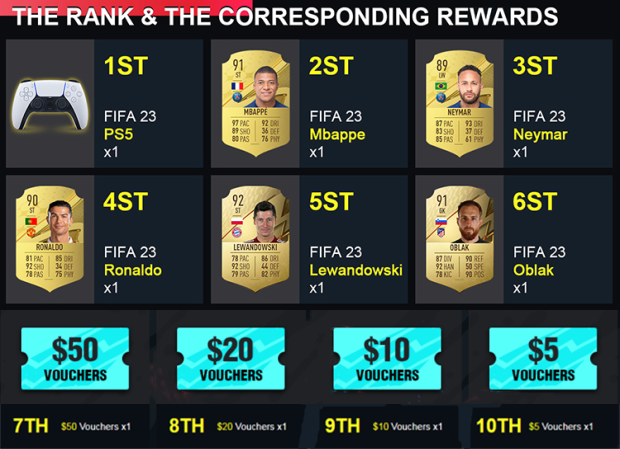 Available Time: SEP.01 8:00 - SEP.28 8:00 2022,UK
Available Console: PS4/5, XBOX ONE / X|S, PC
Are you ready to play FUT 23? Let's expect it!



Alex T: buyfifacoins interface was very easy to use and their system was delivered fast.

The customer has bought:

FUT 23 Coins

2023/

05/24

Vinicius: Great experience highly recommend it a lot! It's like the third time using buyfifacoins and they are legit.

The customer has bought:

FUT 23 Coins

2023/

05/24

DK: 24hr chat is perfect, it's legitimate even though I was skeptical at first.

The customer has bought:

FUT 23 Coins

2023/

05/24




Koen: Order ID: 2974XXXX, great service. Took less than 24 hours to have coins loaded on the Xbox account. Online support has a great service, they helped with any technical questions, much appreciated!

The customer has bought:

FUT 23 Coins

2023/

05/24




Kukula: Ordered at 10 pm the night, and I wasn't expecting the coins can be delivered before the next morning. Also, I made a new order and then receive the coins in 15 mins. Really good!

The customer has bought:

FUT 23 Coins

2023/

05/25




Gomes: 5 stars for fast and reliable service and I never had issues with customer service either. Order ID:2975XXXX

The customer has bought:

FUT 23 Coins

2023/

05/25




Jatin: Very reliable and fast service. Bought players multiple times, quick delivery.

The customer has bought:

FUT 23 Players

2023/

05/25




Aboushousha: Used this site a couple of times, pretty easy with the customer support 24/7, recommend it!

The customer has bought:

FUT 23 Players

2023/

05/25




Azaquari: This service is incredible I received my parts in less than 30 minutes I really recommend it!

The customer has bought:

FUT 23 Players

2023/

05/26




Hidalgo: Great service. I got my players in less than 2h. The best website ever.Awesome love it wow so happy thank you.

The customer has bought:

FUT 23 Players

2023/

05/26




Gewrgalis: Amazing fast and fully active! I recommend buyfifacoins.com for your future purchases!!!

The customer has bought:

FUT 23 Players

2023/

05/26




Videxo: User-friendly, reliable, fast delivery, enhance your FIFA gaming experience with confidence!

The customer has bought:

FUT 23 Players

2023/

05/26