FC 24: Best Players for Centurions Center Back Evolution Upgrade
2023-11-07 05:46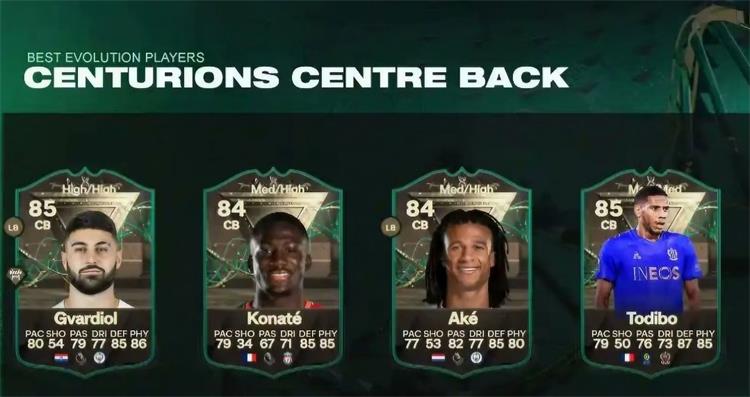 In EA Sports FC 24, these are the best players to use the Centurions Center Back Evolution on.

A brand new evolution was added to EA Sports FC 24 on November 5th. The Centurions Center Back Evolution allows players to take one of their low-rated defenders and give him a big passing boost. This will help him get the ball down the field faster. It's not as powerful as some of the other boosts we've seen this year, but players can use it in helpful ways to make their backline sing. Plus, this EA Sports FC 24 Evolution is completely free. So, at the very least, players can use it to add quality fodder to their club for use in future Squad Building Challenges.

What is EAFC 24 Centurions Center Back Evolution?
One thing that everyone should probably do is the Centurions Center Back Evolution in EA Sports FC 24. You only have to play a total of nine games in Squad Battles to complete it, which makes it incredibly easy. Even if the boost isn't that great, you'll get a free 86 OVR player. That's not a bad return. Plus, you never know what future Evolutions will bring. When choosing your player for this Evolution, here are the requirements to keep in mind:

Max Overall: 83
Max Pace: 79
Max Dribbling: 75
Max Defense: 84
Max Physical: 85
Position: CB
Number of PlayStyles: Max 8
Once you complete all of the Objectives, you'll earn +3 Overall, +2 Pace, +10 Passing, +3 Dribbling, +3 Defending, +3 Physical, and the Pinged Pass and Long Ball Pass PlayStyles.

The best players to use for the EAFC 24 Centurions Center Back Evolution
There aren't as many good options as usual because this Evolution is so limited. That said, there are a few that stand out and could make solid upgrades if you don't decide to just use them to get someone to 86 OVR to feed. Here are the best options, along with an explanation of why they might be a good fit for your team:

Josko Gvardiol – Manchester City
Federico Gattoni – Sevilla
Jean-Clair Todbo (TOTW) – Nice
Trevoh Chalobah – Chelsea
Niklas Stark – Werder Bremen

Of all the recommendations, Gvardiol is probably the easiest. Getting a Man City CB up to 80 Pace with solid Defending and Physical is pretty much a no-brainer, especially when he's free. The problem is that everyone agrees. And his base card is currently through the roof on the exchange market.

Gattoni is another decent option. However, you really need to use the Trailblazer Center Back Evolution to take full advantage of the boost. Todibo's Team of the Week card is also a decent option, but only if you already have it. It's just not worth going out and spending over 15,000 Coins for it.

Stark and Chalobah are where things get a little more interesting. They can both flex to CDM, which means they can take better advantage of the passing boost. However, you will need to have already used any expired Evolutions on them. For example, if you haven't used Pacey Protector Evo on Chalobah, you won't get as much of an upgrade here, making it less attractive. It's definitely worth considering if you're lucky enough to have already boosted one of these players (or another player that fits the bill).

EA Sports FC 24 is available now for PlayStation, Switch, Xbox and PC. December 3 is the deadline for the Centurions Center Back Evolution.

Mcmillion: Every thing worked out great would recommend to anyone looking for these types of services. Top notch chat support to help you along the way thank you once again.

The customer has bought:

FC 24 Coins

2023/

11/28

Blade: Gooooood! highly recommended this website, I didn't wait long for the transaction, and I got more discount from their discord task LOL. Perfect experience and safe from getting banned!

The customer has bought:

FC 24 Coins

2023/

11/28

Ramirez: They were super helpful after I made a mistake and bought the wrong items, got my refund almost immediately. Went ahead and purchased some coins instead and they got it done within an hour.

The customer has bought:

FC 24 Coins

2023/

11/28




Chioreanu: Bought 500K, got 35K extra, I got them very fast, under 1 hour, the customer support was great, everything was flawless! Would recommend and use again! Completely trustworthy!

The customer has bought:

FC 24 Coins

2023/

11/28




Jkozluk: Great service it only takes an hour for your coins to be delivered great customer service.

The customer has bought:

FC 24 Coins

2023/

11/29




Stewy: They have 24 hour chat with agents ready to assist that are friendly, the process took some time but was worth it. This is definitely my go to from now on. Recommending to my gamer friends as well.

The customer has bought:

FC 24 Coins

2023/

11/29




Diyar: A bit complicated but if you figure it out it's not hard really quick good service.

The customer has bought:

FC 24 Players

2023/

11/29




lily: The price of Buyfifacoin is very cheap, I have bought many times in the above, very safe.

The customer has bought:

FC 24 Players

2023/

11/29




Victor: Is fast and secure also the chat is really fast 24/7 and they give you a response in seconds. I will recommend this to my fifa friends.

The customer has bought:

FC 24 Players

2023/

11/30




Montoya: Every time I want FC 24 coins or players, this is my place. I just bought 200k and Harry Kane, and I'm in love with this page, 100% safe and quick for delivery.

The customer has bought:

FC 24 Players

2023/

11/30




Redfield: Took no more than 15 mins to get my players! And they provide the YouTube discount code. Life's good!

The customer has bought:

FC 24 Players

2023/

11/30




Florin: 100% legit and received the players in less than 1hr, and their 24hr live agent was really fast and helpful, will definitely buy more from here.

The customer has bought:

FC 24 Players

2023/

11/30