Chapolin Colorado theme landing on FUT 20 Ultimate Team
2020-02-27 06:53
To celebrate the 91st anniversary of the famous Mexican director Roberto Gómez Bolaños, EA SPORTS has launched a special edition Ultimate Team virtual jersey called "Chapolin Colorado" for the video game "FUT 20".
Compared to the name of Roberto Gómez Bolaños, it seems that his stage name Chespirito is better known in the Spanish-speaking world. The most famous director, actor, and producer in Mexico has created countless TV series with amazing ratings. At his most brilliant time, more than half of the TVs in Mexico were showing his episodes. This "Chapolin Colorado" special edition Ultimate Team virtual jersey is based on the jersey worn by the protagonist he played in the TV series "Chapolin Colorado". In addition to the red and yellow colors, the jersey chest is also added in the middle Yellow peach heart with "CH".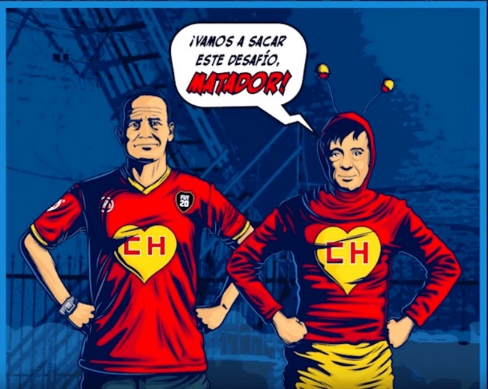 In the promotional photos posted on the official social media of EA SPROTS, three Mexican football icons Raul Jimenez, Luis Hernández and Sebastian Cordova wore this special edition jersey Debuted in the game.



Summa: Wait for 30 mins and got my product and the chat helped me really fast and good.

The customer has bought:

FUT 22 Coins

2022/01/18




Aaron: Excellent service, they offer a quick response to any of my inquiries and are 100% trustable. All love will be back for more.

The customer has bought:

FUT 22 Coins

202

2/01/18

Kavindu: Really good site. Fast delivery. Over-the-top customer service. All in all a very convenient process.

The customer has bought:

FUT 22 Coins

202

2/01/18




Luigi: I ordered 300k FIFA coins and in less than 15 minutes they were on my account.

The customer has bought:

FUT 22 Coins

202

2/01/18




Kabs: These's guys are the truth. Will be doing business for coins or players again soon.

The customer has bought:

FUT

Players

202

2/01/19




Alfie: No problem to get my FIFA players, very quick, efficient and easy to use. Highly recommend them!

The customer has bought:

FUT Players

202

2/01/19




Ewerton: Without a doubt the best and fastest site to buy coins, congratulations to have new features for buying players and squads, the best site, TKS.

The customer has bought:

FUT Players

202

2/01/19




Chris: Sold the players to me very quickly and the entire process was seamless.

The customer has bought:

FUT Players

202

2/01/19




Drake: It's fast and reliable! Will order soon for sure! The best site to buy FIFA squad for a good price!!

The customer has bought:

FUT

Squad

202

2/01/20




Khang: Was skeptical about it at first but everything worked out great, good customer service as well thanks, guys!

The customer has bought:

FUT Squad

202

2/01/20




Domini: I've been using this site since 2019 and I've always gotten what I ordered. Now they have squads that are selling! They are also very helpful with their live chat.

The customer has bought:

FUT Squad

202

2/01/20




Matthew: Very fast response and great guidance when I buy coins and squads.
The customer has bought: FUT Squad

202

2/01/20