FC 24: EA Sports FC 24 fixes Trickster+ glitch: Abusers will be banned, according to reports
2023-10-24 06:00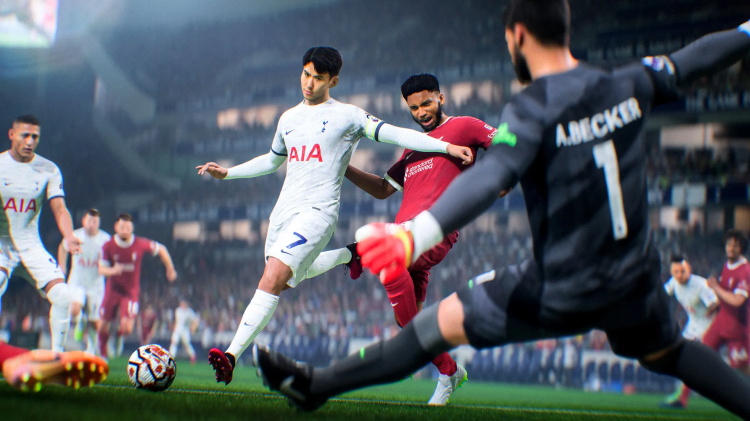 A new glitch that makes it impossible for an opponent to steal the ball with the Trickster+ PlayStyle was discovered by EA Sports FC 24 players earlier this week. When used properly, it allowed players to score a guaranteed goal whenever they wanted, making it a competitive game-breaker. It also wreaked havoc on the transfer market, as when people found out about the glitch, they started buying players with the PlayStyle in droves, temporarily driving up the price of low-rated players like Angel di Maria. Fortunately, the developers of EA Sports FC 24 have since announced that they have temporarily disabled the PlayStyle in Ultimate Team, and some reports claim that bans may be coming for players who have abused it.

If you're not familiar with the glitch, the basics of how it worked is that players were able to use certain moves that were only available to cards with the Trickster+ PlayStyle that had the ball stuck to their leg. They would then be able to run up and down the field without having to worry about someone trying to take the ball away from them because it was glued to their shin. They could then kick the ball into their opponent's net and score an easy goal whenever they wanted.

EA first noted that the issue was under investigation on October 19th, but it wasn't until the next day that the removal was actually implemented. The team then went on to say that the PlayStyle will eventually be reinstated when the title gets updated, but for now, players won't be able to use it. The more interesting aspect of all of this, however, may be the fact that there are relatively reputable reports that bans will be in place for anyone who has used the glitch.

It's important to take these potential bans with a grain of salt until EA Sports makes their own announcement. The news comes from Fut Sheriff on Twitter. Fut Sheriff is known for leaking EA FC promo teams in the past. It is said that EA has plans to ban players who abuse the glitch.

Finding the line between players who used it accidentally and abusers might be the problem. Fortunately, the glitch isn't really something you'd do unintentionally. It's unlikely that EA would ban someone who only did it a few times. Instead, it's much more likely that EA will target players who have used the glitch repeatedly in order to gain an unfair advantage in Champs. If you haven't used it repeatedly, you're probably safe from this round of bans. Either way, it'll be interesting to see how far this potential round of bans goes, especially if these players were able to earn rewards before the PlayStyle was removed. There's no word yet on when the wave of bans might come. But you'd expect an announcement this week if it's going to happen.

EA Sports FC 24 is available for purchase now on the PlayStation, Xbox and PC platforms.

Mcmillion: Every thing worked out great would recommend to anyone looking for these types of services. Top notch chat support to help you along the way thank you once again.

The customer has bought:

FC 24 Coins

2023/

11/28

Blade: Gooooood! highly recommended this website, I didn't wait long for the transaction, and I got more discount from their discord task LOL. Perfect experience and safe from getting banned!

The customer has bought:

FC 24 Coins

2023/

11/28

Ramirez: They were super helpful after I made a mistake and bought the wrong items, got my refund almost immediately. Went ahead and purchased some coins instead and they got it done within an hour.

The customer has bought:

FC 24 Coins

2023/

11/28




Chioreanu: Bought 500K, got 35K extra, I got them very fast, under 1 hour, the customer support was great, everything was flawless! Would recommend and use again! Completely trustworthy!

The customer has bought:

FC 24 Coins

2023/

11/28




Jkozluk: Great service it only takes an hour for your coins to be delivered great customer service.

The customer has bought:

FC 24 Coins

2023/

11/29




Stewy: They have 24 hour chat with agents ready to assist that are friendly, the process took some time but was worth it. This is definitely my go to from now on. Recommending to my gamer friends as well.

The customer has bought:

FC 24 Coins

2023/

11/29




Diyar: A bit complicated but if you figure it out it's not hard really quick good service.

The customer has bought:

FC 24 Players

2023/

11/29




lily: The price of Buyfifacoin is very cheap, I have bought many times in the above, very safe.

The customer has bought:

FC 24 Players

2023/

11/29




Victor: Is fast and secure also the chat is really fast 24/7 and they give you a response in seconds. I will recommend this to my fifa friends.

The customer has bought:

FC 24 Players

2023/

11/30




Montoya: Every time I want FC 24 coins or players, this is my place. I just bought 200k and Harry Kane, and I'm in love with this page, 100% safe and quick for delivery.

The customer has bought:

FC 24 Players

2023/

11/30




Redfield: Took no more than 15 mins to get my players! And they provide the YouTube discount code. Life's good!

The customer has bought:

FC 24 Players

2023/

11/30




Florin: 100% legit and received the players in less than 1hr, and their 24hr live agent was really fast and helpful, will definitely buy more from here.

The customer has bought:

FC 24 Players

2023/

11/30